Welcome to the Skunk-Away home page-Where the Skunk meets Science

Has Your Dog been SKUNKED ?????????
What is Skunk-Away?
Skunk-Away is a product that was developed to rid your pet of the offensive odor that results from an unfriendly contact between your pet and a skunk. Our product was designed to eliminate or greatly reduce the foul odor that is on your dogs fur coat. Our product is not a masking agent meant to cover up the odor like tomato juice, mayonnaise, lemon juice, or many of the other home remedies you may have read about. Skunk-Away reacts chemically with the agents that are present in the skunk excretions to neutralize and eliminate the odor and leaves a pleasant lemon scent in place of the foul smell. Our product is packaged in a dry formula making storage easy. Ideal for vets or groomers that need a simple method of deodorizing customer's pets.
Primarily, Skunk-Away is a detergent-shampoo product but, we have used it for a variety of applications that require getting rid of an offensive odor. Such as, cleaning a refrigerator or freezer that had thawed out unexpectedly with meat or fish inside. It seems to work well with any decaying or organic odors that you may come across that don't respond to normal cleaning solutions.
To Order and Ship Immediately Click Here -> OrderForm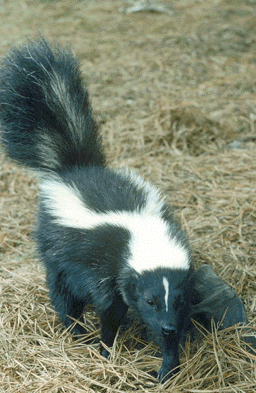 Mr. Skunk

Contact Information
Postal address

Skunk-Away Sales
9401 Durand Ave, Sturtevant, WI 53177,USA

Electronic mail

General Information: skunkaway@hotmail.com